In 2012, the families of Gabriel Graves, Hillary Holten and Stacy Murphy sued Narconon of Oklahoma and it's affiliated organizations for negligence that resulted in wrongful death. Oklahoma attorney Gary Richardson, and his firm Richardson Richardson Boudreaux PLLC, represent all of them.
Of those 3 wrongful death cases 2 have settled recently. The case against Narconon in the death of Stacy Dawn Murphy is preparing to go to trial.
Gilliam v. Narconon of Oklahoma, et al :
In the first of the two cases, Richardson confirmed settlements occurred regarding the Gabriel Graves negligent death lawsuit http://narcononreviews.net/lawsuits/shirley-gilliam-v-narconon-of-oklahoma-inc-narcnon-international/ he filed on behalf of Gabriel's mother, Shirley Gilliam and the minor children of Gabriel Graves (shown in the photo below).

Richardson said "this was a case we would have been more than happy to put in the courtroom to a jury and/or Judge, but reached a settlement that our clients accepted, largely in order to move on with their lives."
We at Narconon Reviews can surely understand this decision. We were made aware of Gabriel's October 26, 2011 death in early 2012 when we received a message from the mother of another patient who had been at the facility at the time Gabriel died. Her son was also ill and not getting appropriate medical care for severe headaches like Gabe experienced. We reported the story about how her son finally managed to leave but not until after the death of Gabriel. 'Joe's' story can be found here on the Reaching For The Tipping Point forum.
We were also fortunate to locate Gabe's mom, Mrs Shirley Gilliam, because of the information 'Joe' provided. She was told of the report. She joined our forum and wrote:
"My son entered "the program" on Aug 27….amount paid in full…he died 2 months later…when I came to pick up his things they had a check for the full amount ready to give me." However, they never explained what happened to Gabe. The director implied it was a drug overdose but she knew that just couldn't be. Later she found out it was not true at all. In an interview with FOX news reporter Marisa Mendelson she said " I sent my son there. I deal with that every day. I will never have closure."
Finally after realizing she had been lied to, she contacted an attorney. Eventually she filed her lawsuit against Narconon of Oklahoma and it's licensing and management organizations.
After the lawsuit was filed she wrote one of the writers here saying "The coroner's office called me today and told me Gabe was clean…he did NOT overdose as Narconon lead me to believe…they never said it, but they implied it." The cause of death was never able to be determined.
Soon Gilliam came together with parents of Hillary Holten and Stacy Murphy to alert the public. They were interviewed by NBC Rock Center in a story about Narconon, the story and video which can be found here:
http://rockcenter.nbcnews.com/_news/2012/08/16/13312825-families-question-scientology-linked-drug-rehab-after-recent-deaths
While attending a protest of the Oklahoma facility, Gilliam gave a moving interview with Bert Leahy:
Shirley Gilliam Talks about the loss of her son Gabriel Graves at Narconon

Holten v. Narconon of Oklahoma, et al

Hillary Holten, courtesy of Legacy at Dallas Morning News
The second lawsuit Attorney Richardson also referred to is the very recent settlement of the case filed against Narconon for the negligent death on April 11, 2012 of 21 year old Hillary Holten, brought by her parents, Matthew and Suzan Holten. He told us that "the Holton case has just settled for similar reasons as Graves. Mrs. Holton had passed on after a bout with cancer. Mr Holten decided to settle and move on with his life."
In his short, moving FOX NEWS 25 OKLAHOMA interview with Investigative Reporter Marisa Mendelson posted later on in this article, one can never forget the the shock and dismay Matthew Holten shows when he describes finding out Hillary died shortly after arriving to Narconon and how she died. Narconon failed to provide her prescribed antibiotics and cortisone medication for an inherited adrenal gland disorder requiring her to take the medication every day of her entire life. Narconon failed to give Hillary her medications while she was in the withdrawal stage of the program. They gave her excessive amounts of vitamins instead, while she was sick with pneumonia and under tremendous physical stress due to the abrupt withdrawal of prescribed cortisone held by the staff. She went into an "adrenal crisis," and died during her sleep.
"I was in shock" ….."They murdered her, just flat murdered her"

Because these settlements typically include non-disclosure agreements, the plaintiffs cannot speak about Narconon or the amount of money they received in settlement. This is standard for most Scientology entity case settlements, so it's no surprise to us. However, in the near future we will be doing an interview with someone who was in close contact with the Holten family over the last few years which we hope will provide more insight on what happened to Hillary and the effect her death and this court matter had on their lives before the settlement.
Although the Graves and Holten cases have settled, Richardson said "the Murphy case is getting prepared for trial. We are looking forward to getting the Murphy case in front of a Pittsburg County jury." Currently, it is nearing that target and witness lists have been submitted to the court.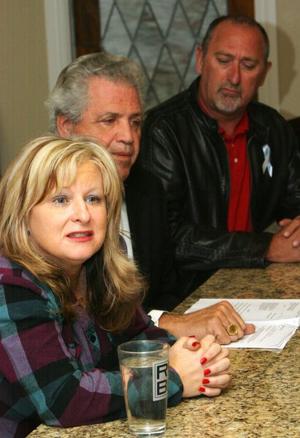 Richardson with Stacy's parents, Tonya White and Robert Murphy– Tulsa World News
That case, filed by Robert Murphy and Tonya White, parents of Stacy Dawn Murphy, will be the first Narconon negligent death case to go trial.
Back in early 2013, just days before trial was to start, Scientology entities Narconon of Georgia, Association for Better Living and Education and Narconon International settled what is known as the Desmond Wrongful Death lawsuit. This was filed in 2010 on behalf of the family and estate of 'student' Patrick Desmond, who died June 11, 2008 while in the care of Narconon of Georgia. In addition to the claim of Wrongful Death, amendments to the complaint were filed based upon evidence obtained during pre-trial fact findings. These added claims against Narconon et al included RICO (Civil Racketeer Influenced and Corrupt Organizations ) by Fraudulent Statements to a Government Organization, Mail Fraud and Theft by Deception. Many were following the case over 2.5 years and were hoping to it go to trial but the Narconon defendents settled. We heard that it was a Friday night decision, with trial starting on Monday morning. The Desmonds agreed to end the case. We don't blame them but we've been waiting for a case to go to trial ever since.
Attorney Gary Richardson understands this and plans for the Stacy Murphy negligent death case to be the first. We're very happy to hear this.
Below is Fox 5 Marisa Mendelson's two part news story video. The three families came together to share their stories about what they think caused the deaths of their children. No parent sends their child to a drug rehab facility to die, but deaths have occurred. Particularly at Narconons and other unbranded rehab facilities using Scientology's scripture as drug rehab 'tech'.Please take time to watch and listen. And share.
FOX NEWS 25 Nov 19, 2012 Narconon Rehab Deaths
There have been 4 negligent death lawsuits filed against Narconon of Oklahoma and it's senior management organizations since 2010. The first case was brought against Narconon of Oklahoma aka Narconon Arrowhead due to the 2009 negligent death of 28 year old Kayse Werninck. She died of double pneumonia after being given the wrong medication by the staff and denied appropriate medical care. Her parent's lawsuit was settled in April of 2011. Since then there have been multiple lawsuits against this facility and more to come. Across the nation there are so many now that it's hard to keep track.
The settlements of the Holten and Gilliam/ Graves cases will undoubtedly bring some peace of mind that Narconon was made to pay financially for what they did – and what they didn't do when they should have. The real payback will be when these and all other Narconon facilities are shut down. Every lawsuit is another nail in the coffin. Getting them to trial and in front of a jury will seal it. With the support of Stacy Murphy's parents, Gary Richardson is determined to take the Murphy case all the way.
We wish him the best on this and the 7 other remaining cases he filed for victims against Narconon of Oklahoma. Richardson's efforts to make Narconon accountable for the harm it has done is appreciated